PROMETHEUS
UKSH - Universitätsklinikum Schleswig-Holstein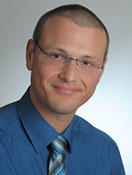 UKSH
Felix Prell is manager for the lead partner as well as the overall PROMETHEUS project leader. He holds a master of science and has a background in multimedia technology and design, as both developer and lecturer. His keen interest in patients' concerns and a firm belief that life quality and healthcare efficiency can be significantly improved by correct application of innovative tech-nologies has driven him to initiate the PROMETHEUS project. He has the experience of two prior Interreg health projects to draw from to help make user-driven innovation, shared decision-making, and the empowerment of Danish and German patients a reality.
​Felix Prell ist der Manager des Lead Partners und Gesamtleiter des PROMETHEUS Projekts. Er ist Master of Science mit einem Hintergrund in Multimedia Technologie und Design, sowohl als Entwickler wie als Dozent. Er interessiert sich sehr für die Belange der Patienten, und ist davon überzeugt, dass deren Lebensqualität und die Effizienz des Gesundheitssystems durch die adäquate Anwendung innovativer Technologien entscheidend verbessert werden können. Deshalb hat er das PROMETHEUS Projekt initiiert. Er kann auf Erfahrungen aus zwei früheren gesundheitsorientierten Interreg- Projekten zurückgreifen, um Anwender-getriebene Innovation, gemeinsame Entscheidungsfindung und das Empowerment dänischer und deutscher Patienten in die Realität umzusetzen.
Felix Prell er projektchef af lead partneren og dermed den overordnede leder af Prome-theus projektet. Han er cand.scient. med en baggrund i multimedia teknolo-gi og design, både som udvikler og underviser. Han er meget interes-seret i patienternes behov og er overbevist om at såvel patienternes livskvalitet som sundheds-systemets effek-tivitet kan øges markant ved hjælp af innovative teknolo-gier. Derfor har han initieret Prometheus projektet. Han har erfaringer fra to tidligere Interreg projekter I sundheds-væsenet. Dermed kan han føre bruger-dreven innovation, fælles beslutnings-tagen og empower-ment af både danske og tyske patienter ud i livet.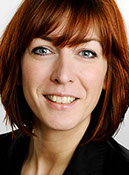 Julia Lyhs is coordinator of PROMETHEUS, both for the German side and the overall project. She organizes meetings and workshops and ensures effective and smooth communication between all partners. She is the primary contact person for anybody interested in the project. Being a trained multimedia-producer, she can draw on experience from former Interreg projects in the health care sector as well as other projects for the benefit of PROMETHEUS. She is looking forward to helping patients gain more competence and confidence in health matters, and to establish a new relationship between doctors and patients.
Julia Lyhs ist die Koordinatorin des PROMETHEUS-Projekts, sowohl für die deutsche Seite als auch für das Gesamtprojekt. Sie organisiert Treffen und Workshops, sorgt für eine effektive und reibungslose Kommunikation zwischen allen Partnern und ist für Interessierte und Personen außerhalb des Projektes die erste Ansprechpartnerin. Als Multimedia-Producerin kann sie auch auf Erfahrungen aus früheren gesundheitsorientierten Interreg-Projekten sowie anderen Projekten zurückgreifen und wird diese zielgenau in das PROMETHEUS-Projekt einbringen. Sie freut sich darauf, ihren Teil beizutragen, die Gesundheitskompetenz und das Selbstverständnis von Patienten zu stärken und dabei zu helfen eine neue Arzt-Patienten-Beziehung auf Augenhöhe zu etablieren.
Julia Lyhs er koordinator i PROMETHEUS-projektet, såvel for den tyske side, som for hele projektet. Hun står for organisering af møder og workshops, og sørger for en effektiv kommunikation mellem projektpartnerne. Derudover er hun også første kontaktperson for alle interesserede udefra.Som multimediaproducer har hun opnået erfaringer indenfor sundhedsorienterede Interreg-projekter og andre projekter, som hun kan bidrage med i PROMETHEUS. Hun glæder sig til at gøre sit for at styrke patienternes sundhedskompetence og selvforståelse, og til at bidrage til at etablere et læge-patient-samarbejde i øjenhøjde.
Prof. Dr. Klaus-Peter Jünemann is head of UKSH's Department of Urology and Pediatric Urology in Kiel. He is a renowned expert for treating urological tumors, erectile dysfunction and incontinence. In 2013 he established robot-assisted surgery in treating tumors and metastases with the innovative daVinci® System.
A member of numerous urological clubs Jünemann has published over 300 scientific articles. His passionate dedication for research, medical and technical innovation has fostered many national and international projects. With the Prometheus project, he demons-trates once again his openness for new ideas and his interest in helping patients to educate themselves about their disease.
Prof. Dr. Klaus-Peter Jünemann ist Direktor der Klinik für Urologie und Kinderurologie am UKSH in Kiel. Er ist ein ausgewiesener Experte für die Behandlung urologischer Krebs-erkrankungen, erektiler Dysfunktion und Inkonti-nenz. 2013 gelang es ihm, die roboterassistierte Tumor- und Metastasenchirurgie mit dem innovati-ven daVinci® System zu etablieren.
Jünemann hat über 300 wissen-schaftliche Artikel veröffentlicht und ist Mitglied zahlreicher Fachgesell-schaften. Sein leidenschaftliches En-gagement für Forschung, medizinische und technische Innovation hat zahl-reiche nationale und internationale Projekte hervorgebracht. Mit dem Prometheus-Projekt stellt er erneut seine Offenheit für neue Wege und sein Interesse an der Verbesserung der Patientenaufklärung unter Beweis.
Prof. Dr. Klaus-Peter Jünemann står i spidsen for Klinikken for Urologi og Børneurologi ved UKSH Kiel. Han er en anerkendt ekspert indenfor både den urologiske cancerbehandling, den erektile dysfunktion og inkontinens. I 2013 er det lykkedes for ham at etablere den robotassisterede tumor- og metastasekirurgi ved hjælp af det innovative daVinci® system.
Jünemann har udgivet mere end 300 videnskabelige artikler og er medlem i forskellige faglige sels-kaber. Hans passionerede enga-gement for såvel forskning samt medicinske og teknis-ke innovationer har ført til en del nationale og internationale projekter inklusiv fire Interreg projekter siden 2010. Med Prometheus projektet beviser han igen stor åbenhed overfor innovation og hans interesse for en forbedret patientinformation.